A new blog series!
We're calling it
What We Wear Wednesdays.

Each Wednesday I'll post mine & Jack's outfits.
Now. I'm certainly no fashionista.
I don't know the true rules of fashion
but sometimes we come up with cute outfits!
Hopefully this series will be beneficial for you
in that maybe you can get new outfit ideas
and it will keep my blog interesting amid the slow house-hunting process.
It will be beneficial to me because
1) I'm hoping it will encourage me to try extra hard in planning outfits/hair/makeup.
Sometimes when you stay home all day it's hard to be motivated to make an effort at looking cute
and 2) Maybe I will be able to find new outfits amid my current closet full of clothes.
So Jack & I bring you...
What We Wear Wednesday: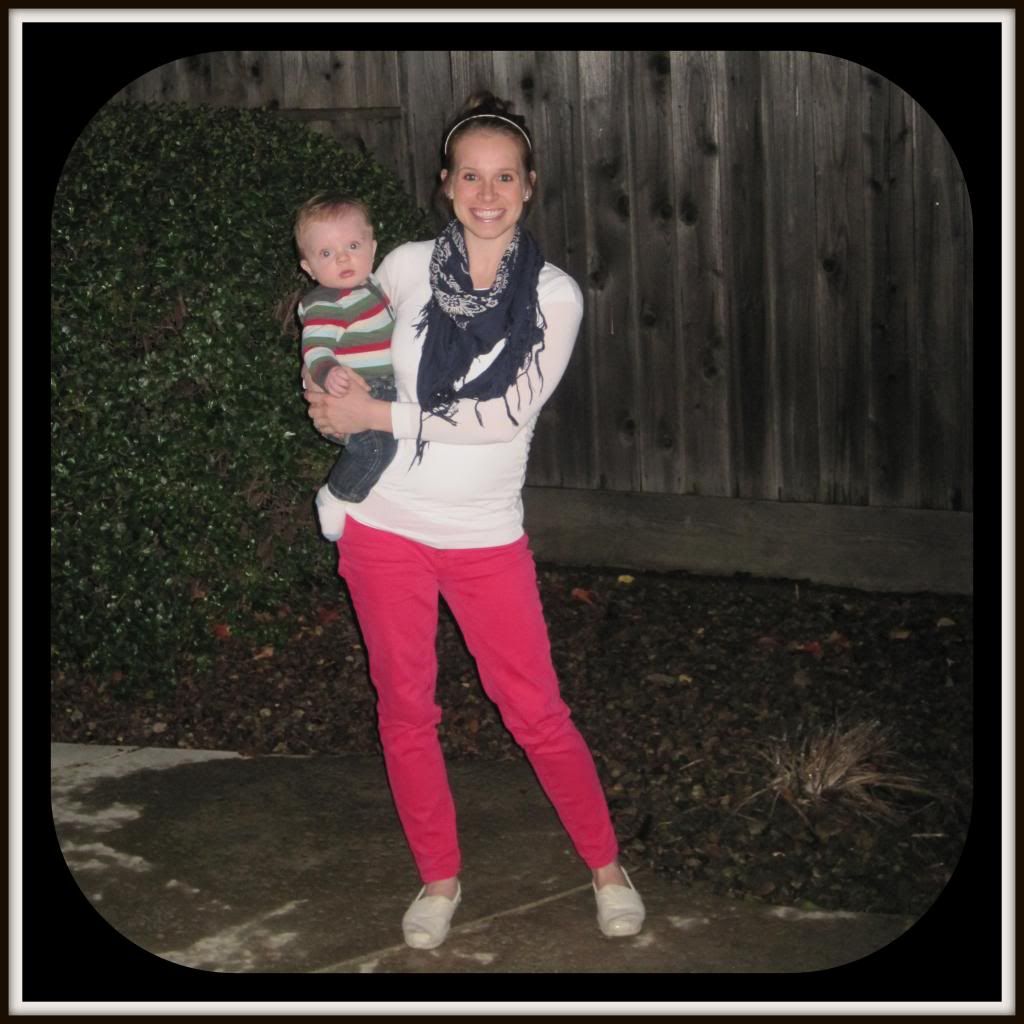 Marci
Top: Shade Clothing
[PS I just got an email from Gymboree today with a coupon code for 25% off your entire order through December 24. Use coupon code SHADEGIFT. Did you know Shade was owned by Gymboree? I had no idea until today.]
Jeans: GAP
Find all different colored Gap jeans
here
.
[And guess what? Enter GAPGIFT at checkout and you'll get 30% off. I'm not sure when that ends though so if you want some, get them now!]
Please excuse that my jeans are clearly too big. I bought them about a month ago and apparently I'm still losing baby weight in my legs since they don't really fit anymore. I guess these are going to become my post-maternity jeans for the first couple months after having babies.
PS I will have you know I did not spend $69 on these jeans. I bought them at Gap Outlet during the Friends & Family sale and my grand total was around $13.
Scarf: Charlotte Russe
[one of my very favorite stores, especially for accessories!]
This particular scarf was purchased during happy hour for half off.
Sign up to receive their emails or texts and you'll get happy hour alerts!
They go with [almost] everything.
Even though I did not pay full price for these
[thanks to Chelsy for the 40% off!]
I would have paid full price.
You should know that the glitter TOMS hold up much better than the original canvas.
But you can find knock-offs all over the place if you want to spend less.
Headband: Borrowed from my sister.
You can find cute headbands anywhere :]
It didn't work out quite like hers since my hair is layered
and it didn't end up as high as I would have liked...
but it still worked great for not getting my hair pulled by Jack Jack all day :]
Jack Jack
I used to hate baby jeans and swore Jack would never wear them...
that was until I discovered Baby Gap jeans.
They're the cutest!
I bought these at the Baby Gap Outlet during Friends & Family for around $10.
Do you have a blog series on what you wear?
Share with me, I love to see cute outfits!
*Side note: This blog post is not sponsored by any of the above stores. I just want to link you to our clothes to be extra-helpful. And I'm just giving you the coupon codes because I'm nice. Nobody is paying me to tell you where to shop :]